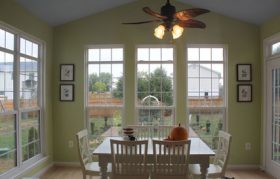 If you are looking for a contractor who will come in, get the job done quickly and leave the home looking new again, Donald Oliver Home Improvement is the company you want to hire. When you choose Donald Oliver Home Improvement for your door and window projects, you are choosing decades of experience, integrity and reliability!
Donald Oliver Home Improvement's experience extends across many brands offering a large variety of style, colors and materials and we will help you to choose the right doors and windows to fit your home's décor and budget. All of our doors and windows offer exactly what homeowners want since they are a combination of security, energy efficiency, noise reduction, easy maintenance and style.
Most installations are completed in one day! Our skilled and highly trained manufacturers will carefully remove your old doors and windows, and rapidly install the new ones. At the end of the day, our crews will remove all work debris so that you can enjoy your new doors and windows immediately!