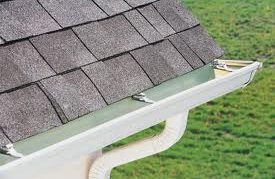 If you need new functional gutters, Donald Oliver Home Improvement offers many different solutions and colors to enhance the look of your home. Any shape and color is available to create the exterior style you have been looking for! Instead, if you need gutter cleaning and repair, we will tailor a specific maintenance program depending on your case.
The gutters on your home are designed to keep moisture flowing off of your roof and away from your home. However, gutters that become clogged with leaves, dirt and other debris impede the normal drainage process, making the structure more susceptible to water damage. In this case, call Donald Oliver Home Improvement and our staff will provide you with a full inspection and cleaning. First, all debris is hand cleaned from the gutters and placed in buckets and bagged. Then, a water hose is used to clean the interior of the gutter and all fine debris from the drip edge and inside lip of the gutters. Finally, all down spouts are checked for proper drainage and any debris that collected at the bottom drain is also removed. An annual inspection of the gutters and downspouts is highly recommended.
Donald Oliver Home Improvement's crews receive rigorous training. Choose professionals. Choose Donald Oliver Home Improvement.